107th Annual State Convention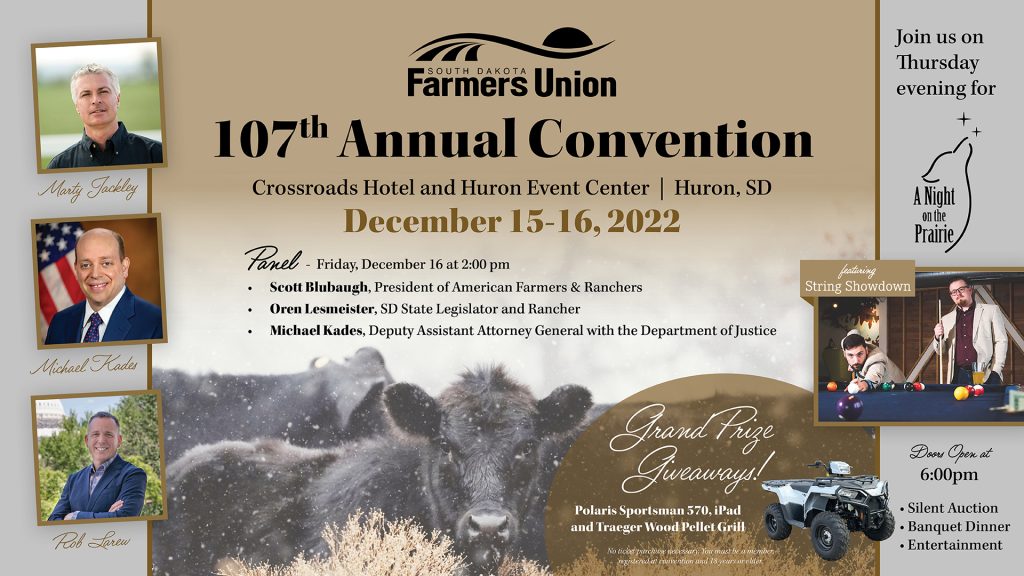 Welcome to the 107th Annual South Dakota Farmers Union Convention. Our annual convention is regarded as one of the most important events of the year. As a grass roots farm organization, our annual convention allows for our members to gather together to discuss and develop vital agriculture policy that serves the best interest of rural family farmers and ranchers.
This year we welcome special guests Marty Jackley – SD Attorney General Candidate, Michael Kades – US Dept. of Justice, Scott Blubaugh – President of American Farmers and Ranchers, Rob Larew – President of National Farmers Union.
Panel discussions will focus on market fairness, competition, and right to repair.
Join US!
*** Delegates – credential cards must be received by December 9, 2022.
2022 Credential Committee
Myrna Hotchkiss
Dean Seegers
Tanya Hofhenke
Cindy Painter
2022 Policy Committee
David Cap
Paul Hotchkiss
Robert Lee
Hank Wonnenberg
Mary Ellen Cammack
Jerry Petik
Jenae Gross
107th Annual State Convention Registration