Albrecht Family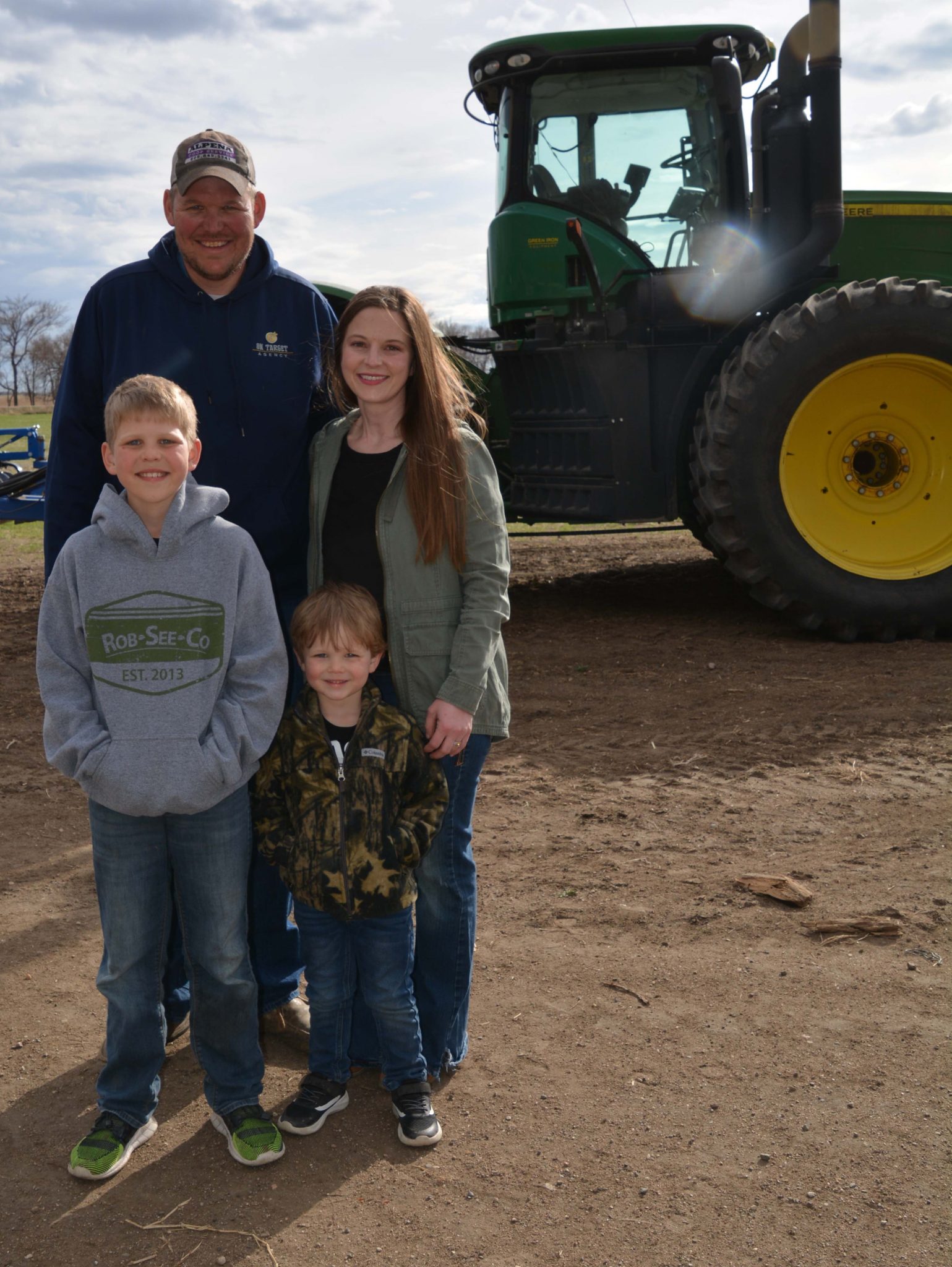 By Lura Roti for SDFU
Riding out to check cows with a cup of morning coffee, their youngest son, Cale, 3, on her lap and oldest son, Cade, 9, on the seat between her and her husband, Chris – this is the way Amy Albrecht likes to spend Saturday mornings.
"These are the mornings when I say a silent prayer of thanks – we get to be outside, on the farm together, doing what we love," said Amy, who grew up on the Alpena farm where she and Chris raise their sons today.
"I always wanted to raise my kids on the farm because they can play outside but also learn responsibility and humility with this lifestyle," she said. "Not that the boys are old enough yet to have major chores, but they see their dad and grandpa out caring for the livestock and crops regardless of the weather, other responsibilities, or wants. They work until the work is done. It takes resilience to farm. Those are important lessons for my kids to learn."
Amy spends weekdays off the farm working as a family nurse practitioner in Huron while Chris works on the farm raising cattle, crops, and operating a custom farming business.
"It keeps us busy," Chris said. "Not many slow days around here. I like it when we have the opportunity to all get in the Ranger and check cows together or when the kids come ride along with me in the tractor. Amy likes to help when she can as well." He knows Amy and the kids like to ride along whenever able, so he often waits until she is home from work before he does the evening check.
Chris added that considering the volatility of livestock and crop markets, Amy's off-farm income provides the household budget with some stability as a bonus. "Heck of it is there are so many outside farm factors that weigh so heavily on our profitability anymore," Chris said. "Amy having a job in town levels the playing field so to speak. It makes these market changes a little more tolerable knowing we have somewhat of a back up."
Growing up on a farm near Marion, Chris always loved farming, but his family's farm was small. He knew there was not an opportunity for him to build a career there. So, he got a degree in diesel mechanics from Lake Area Technical College. He was working as a mechanic when he met Amy.
Amy shared the story. "I was showing cattle in an open show in Valley City, North Dakota, and we had a guy helping us fit cattle. He brought his brother to the show to help, who also brought his best friend Chris."
Like Chris, Amy loved growing up on her family's farm.
"I always loved being outside with the animals, and I absolutely love taking care of things," she said. "When I was 5, I told my dad I wanted a dog or a horse or I was moving out."
Amy's dad, Scott, bought her a dog. He also helped her bottle feed some kitties she found in the barn. "My parents were always supportive."
Although she loved caring for animals, she found her calling in human medicine.
"I'm a science nerd at heart," she explained. "I find the human body so fascinating. Probably a bit like Chris with his engines, I want to know why and how it works and what I can do to make it work better."
Chris and Amy were in their mid-20s when they married. Amy's dad, Scott, and mom, DeVonne, helped them get started by letting them run their cattle on the farm and cost-sharing equipment. Amy's parents also helped Chris purchase a service truck. For the first several years after they moved to Amy's family farm, Chris ran a diesel repair shop to help supplement the farm.
"We would not be where we are today without the jumpstart they gave us," Chris said.
Chris began leasing cropland and started custom farming so he could purchase newer equipment. In addition to helping cover land and equipment costs, Chris said his mechanics business and custom farming helped him get to know the neighbors.
"I was the outsider who moved here from 150 miles away," Chris said. "We have great neighbors who have become great friends."
Chris gradually slowed down the shop work as the farm, crops, and cattle took over as his primary focus. He closed his shop in 2019; however, he is a born tinkerer, so there is always a project underway in the shop. Likely he's there building a part for something on the farm or pulling tractor to make it more efficient.
"I really enjoy fixing stuff," Chris said. "When I was 5, I took Grandma's exercise bike apart. I did not have permission, and even though it looked like it was back together, it never worked again. I guess she was pretty upset. It even came up at her funeral."
To keep his "tinkering" hobby alive, he restores antique tractors and competes in tractor pulls.
"I would say my mechanic interest came from my dad," he said. "We did our own repairs on farm equipment, and my family has collected antique tractors since the '40s."
Chris explains the antique tractor collecting began since his grandpa ran a salvage business during World War II.
"He would round up the iron and haul it to Sioux Falls for scrap. He would keep the ones he thought were too cool to sell," Chris explained.
Like their parents, Chris and Amy's sons enjoy farm life.
"Cade would rather be on the farm with his dad than anywhere else," Amy said. "He does not always enjoy school work; however, he will take the tractor and feed wagon out to feed cows. I did chores with him once and he told me, 'we have 250 head of cows, I have 13,000 pounds of feed, I need to have at least 12 piles, but it would be better if I had 14, so I am going to put a little less than a thousand pounds in each pile.' He had no idea he was essentially doing algebra."
Providing a childhood on the farm for their sons similar to the way they grew up is important to Chris and Amy.
"There's always work to be done on the farm, but it's work we can do together," Amy said. "And there's plenty for my boys to do. Often I look out the window to Cale on his pedal tractor with the cat and he is hooking up his wagon to feed the cows while Cade is out actually feeding the cattle with his dad. It's a perfect site and one I never want to change."