Jung Family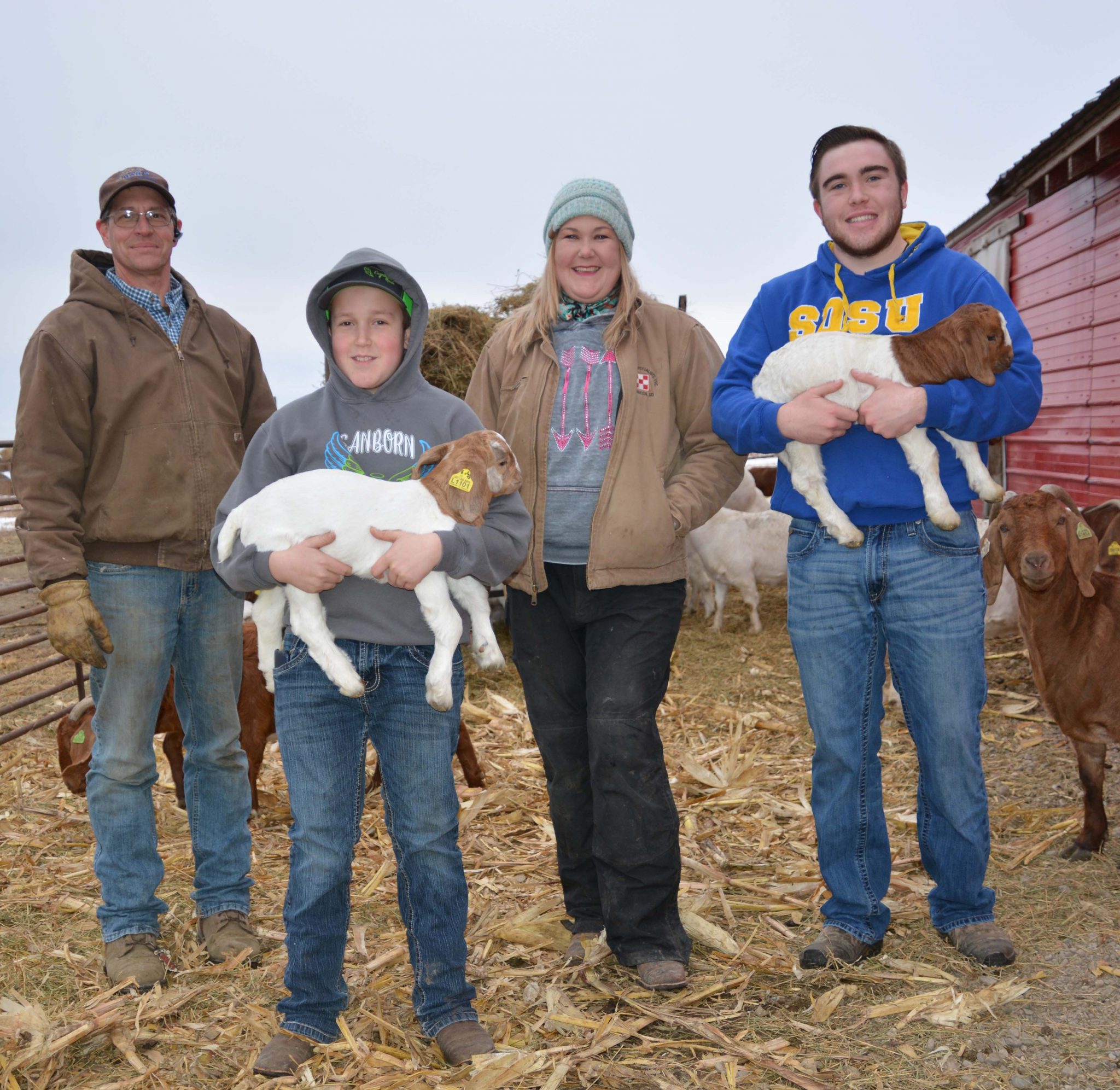 By Lura Roti for South Dakota Farmers Union
Stephanie Jung used to schedule kidding for after the New Year. Then, the purebred Boer goat breeder realized if she moved the date back a few weeks, she and her husband, John, would have some help.
"Any smart mother would schedule kidding around Christmas break when she has two, two-legged kids to help her," explains the Edmunds County rancher.
Stephanie's sons, Kale, 18, and Jacob, 12, are experienced and enjoy the work. "I like being outside and helping," Jacob says.
In addition to helping out with farm chores, both boys raise show animals. Kale shows cattle and goats and Jacob shows cattle and pigs.
A senior at Groton Area High School, Kale says he and his brother probably spend more time working with their show animals than they do in football or basketball practice. "We spend several hours a day working with them. You want your animals to be calm, you want to train them and work with them as much as possible, wash them every day, practice setting them up and showing them," Kale explains. Kale credits John's children, Alex and Brooke, for encouraging him to get into showing. "When mom and John got married, John's kids were in 4-H. I wanted to get in 4-H and show as soon as I was old enough."
In addition to the reward of seeing an animal he raised and trained do well in the show ring, Kale says it's the people he has met and friends he's made that he most enjoys about showing livestock.
Stephanie and John can relate.
"We are in the business because of the people," says Stephanie. "If I were to sit down and make a list of the people who have had the biggest influence on my life, it would be all the livestock people."
In addition to Boer goats, the Jungs also raise registered Red Angus. They market their goats and cattle for breeding stock and show animals.
"I grew up in the Simmental business. My family raised and sold Simmental bulls until the early '80s when the cattle industry changed and everyone wanted black," John explains. "We began crossbreeding with Red Angus and discovered it was difficult to find Red Angus bulls, so that was when I decided to raise Red Angus. Their disposition is remarkable."
Disposition and maternal traits are the focus when John and Stephanie develop their herd's breeding programs. "We raise maternal type cattle with a lot of growth. We don't chase fads. We try to stay on keel and raise good cattle that perform in the real world," John says.
He explains that although Lazy J Bar Ranch Red Angus are sold all over the U.S., Canada and Mexico, the majority of their bull buyers are commercial cattle producers living within a 100-mile radius of their Ipswich ranch. A fourth-generation Edmunds County cattle producer, John purchased the land where the family lives today in the mid-1990s.
Stephanie was raised on a sheep and commercial cattle farm a few counties over, near Bradley. It was because of bum lambs that Stephanie first became familiar with goats. "We always had a few goats to feed the bum lambs. So, I've always had a soft spot for goats."
In 2003, she was introduced to the Boer goat breed and began building a small commercial herd. Boer goats are known for meat quality.
"The main thing that piqued my interest in the Boer breed was the meat," Stephanie says. "I grew up only knowing dairy goats and suddenly realized there is a breed of goats that had this much meat. It was like looking at a dairy cow versus a beef cow."
Then in 2010, she decided it was time to expand and focus on genetics and raising a registered herd. Stephanie explains that the No. 1 demand for goats is meat and the second is show/breeding programs.
"My heart lies in pedigree. I like to know where things come from and see them on paper and mate them, see their genetics improve and market them," Stephanie says.
When Kale and Jacob were young, the goat herd also allowed Stephanie to remain on the farm full time. Today, she works part-time off the farm as a bookkeeper for a trucking company. In addition to the farm, John also works as a livestock feed consultant and crop adjuster.
Raising goats alongside cattle works well because unlike sheep, goats are not sensitive to minerals fed to cattle, and goats will eat anything cattle won't. "They like to eat weeds, leafy spurge, things cattle won't eat."
When Stephanie began focusing on registered Boer goats, the show community in South Dakota was small. Today, the State Fair goat show rings are full. "When we first got into showing goats, our cattle friends asked, 'what the heck are you doing with goats?' Now, I think every single one of them are showing or have shown goats.'"
Stephanie adds that a goat's size and personality make them a safe 4-H project for younger members. "Kids can spend time working on their goats and you don't have to worry about them getting hurt like with beef cattle."
The Jungs say their friends are also won over by the flavor of goat meat. "When I prepare goat for people, they cannot tell the difference between it and beef. Except, if we are cooking goat and have a party of 20, all the sudden, there goes the whole goat," John explains.
In addition to serving as 4-H leaders, John and Stephanie have both served on the board of directors for the South Dakota Red Angus Association. This fall, Stephanie will run to serve on the National Red Angus Association board.