Hanson Farm Family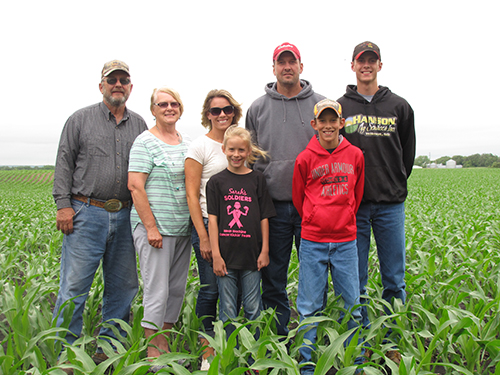 By Lura Roti for South Dakota Farmers Union

When it comes to his farm, it doesn't take much to make Gary Hanson smile.
"I just enjoy going out and putting in fence. The posts are straight, the wires are tight – it gives me joy," explains the fourth-generation Sisseton farmer. "I tell people that when I was a college student, farming was my distraction. I loved it and knew that I could return to the farm, so that's what I did."
At 67, Hanson's passion for farming has not dwindled, but his focus has expanded beyond his crops and cattle.
Today, his son, Cody, 42, is making most of the decisions Gary and his brother, Paul, used to make.
"Like my dad, I liked tractors and cattle – I played farmer when I was growing up – I enjoy what I do," explains Cody, who lives on the farm, next door to his mom and dad, with his wife, Shawn, and their four school-age children, Reece, 16; Parker, 14; Kennedy, 10; and Scarlett, 6.
Gary says handing over the reins to Cody has given him more time to enjoy farm tasks, time spent outdoors and allowed him to become more engaged in his other passion – serving South Dakota's farmers and ranchers.
Over the last two decades, Gary has traded in some on-farm responsibilities for off-farm agriculture advocacy.
He spent 12 years representing District 1 in the South Dakota Legislature, first in the House and then in the Senate (1999-2011). He served on the Brown/Day/Marshall County Rural Water Board, Crop Improvement Board and was on the board of the local cooperative for 16 years.
"Once I got involved, I had this drive to do more," he explains. "It seems like some don't get involved, so it was my time to help out and get things done. I wish everyone would put in a couple terms in the Legislature or serve on a committee. We all need to be aware of what is going on or things don't get done right or watched. It's good to be involved and see what is going on."
Gary credits Farmers Union with introducing him to grassroots politics and a desire to serve.
He attended his first Farmers Union meeting in 1971, shortly after he and his high school sweetheart, Angie "Elton" married.
At the time he didn't know much about the organization, but attended the meeting anyway.
"They asked us to bring a hotdish. Long and short of it is, by the end of the day I was elected to the board. I got involved to learn more about the organization and took my first bus trip to Pierre for a Legislative Day. That was my first introduction to the South Dakota Legislature. By the end of the day, I told myself, 'I am going to do this someday.'"
Once his interest for policy development was ignited, Gary became actively involved in Farmers Union on the local and state level.
"I saw then, what I still see today, Farmers Union is the most active agriculture group fighting for our farmers and ranchers," Gary says.
He has served as President of Roberts County Local Farmers Union, currently serves as a County Counselor (the committee who reviews policy and leads membership policy development discussion each year) and has attended several D.C. Fly-Ins.
"I suggest that every farmer or rancher attend a Fly-In. They do more good than you think," Gary says. "Right now we have an exodus of organizations – young people don't join clubs anymore. When people get mad about something, I tell them to go serve a term and then come back and tell me how bad things are. Currently, there are very few of us (farmers or ranchers) in the legislature. Farmers and ranchers need to educate the public about what we do – that includes our representatives."
As his political involvement grew, so did the family's farm where he and Angie raised their three, now adult children, Cody, Ross and Stacy Naeve.
When neighboring farmland or pasture became available, he and Paul slowly expanded their crop acres and cow/calf herd. Today, the men grow corn, wheat and soybeans on 2,500 acres and raise 300 head of stock cows.
The brothers did put more of a focus on expansion when they knew Cody would join them in the farming operation.
Since the beginning, the brothers have farmed together, splitting everything 50/50. "We aren't an official partnership – meaning there isn't any paperwork. But we split everything down the middle," Gary explains.
They are strong believers in crop rotation – a practice which is saving them money on inputs this season. "I know a lot of people, that when corn was $7 they quit rotating. We kept rotating our crops around from field to field – rotating keeps the diseases away so we do not have to go to triple-stack corn – when we do treat weeds, we use different sprays on crops each year," Gary explains.
Their conservative nature is innate. Instilled in them from an early age by their father, David, who got his start farming during the Dust Bowl. As a young man, David watched his dad, John (Gary's grandfather), lose everything when he couldn't pay off a $6,000 note.
"My dad was almost too conservative. But, when you see your dad kicked off the farm, it is understandable why being debt free would be so important," Gary says.
The Hansons market a large portion of their crops through their cattle, which they sell at weaning through the local auction market.
"It's tough for us to go anywhere else because our farm is only 2 miles from the auction barn," Cody explains.
What grains they don't use for cattle feed, they work with a professional to market.
"I used to do marketing by myself, then I hired someone to help – I guess I didn't feel I was doing a very good job so I thought I would hire someone who does it for a living. I know I still get my input, but the professionals know how to use more of the tools than I do," Cody says.
With the fifth generation to carry on his family's farming legacy, Cody sees a future for the Hanson farm.
"I hope one of our children want to take over. Right now, our oldest son is showing an interest, he helps out as much as he can in the summer. But, kids are kids, so you never know," Cody says. "It's kinda what you have in the back of your mind – that one of the kids will take it over and will keep it going. For me, that is why I keep building and sustaining so the next generation will take it over."