Painter Ranch Family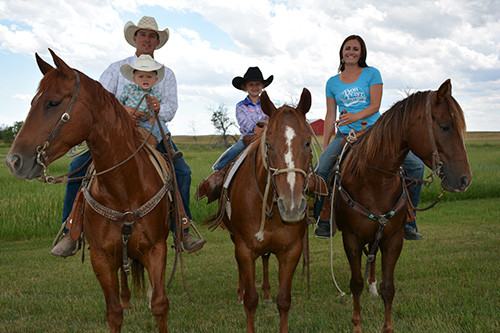 By Lura Roti, for South Dakota Farmers Union
Running cattle on Harding County grasslands has been a part of the Painter Family legacy since 1895 when great-grandpa, Lewis Levi Painter, rode the open range as a horse wrangler for the CY Cattle Company of Texas.
"He ran a few cows with the main herd and squatted on this land until about 1910 when he filed homesteading paperwork," explained Lewis' great-grandson, Joe Painter, 56.
Like the four generations of Painters before him, Joe continues to run cattle and ride the range along with his wife, Cindy, and their two daughters, Jessica and Joey, and their families. Their son, PJ, 29, works as an attorney in Louisville, Ky.
"Having our kids return to the ranch is the best thing in the world," says the Harding County rancher. "Otherwise, all those years of working extra hard to buy land and cattle would be for nothing. When you have the kids return home, you have someone to pass it on to and that makes everything worth it." "It's what we worked for all our lives," Cindy adds.
When Joe mentions hard work, he's not stretching the truth. It was 1983 when he and Cindy returned to ranch fulltime after college. "Interest was 18 to 24 percent. Money was impossible to come by. We didn't spend a nickel unless it was absolutely necessary," Joe says. "A neighbor's ranch came up for sale, $30 an acre, but we had no money to buy it. That's how tight it was in the 80s." Cindy shared another example of a time that the bank loaned them money to purchase sheep but then wouldn't loan them money to buy feed.
"We made it through by working extra hard. In blizzards we would put nearly every calf and lamb in a hotbox to save them," Joe says.
Their efforts were rewarded. Over time, Joe and Cindy were able to slowly expand their acres and cattle herd; slowly buying small neighboring ranches and quarter sections of land from absentee landowners whom they had previously rented from­ remnants of the homesteading era. "This whole country was homesteaded in 160-acre parcels. Most families were starved out and left. My dad used to say that the only survivors were those with a strong back and weak mind," Joe laughs.
Joe and Cindy ranched in partnership with his dad, Paul, and stepmom, LuAnn, until his dad passed away suddenly in 1992.
Today, Joe and Cindy partner with their daughters and sons-in-law. They run primarily Black Angus cows, as well as a yearling operation.
"I never thought about doing anything else. I started buying cows when I was in college and anytime I had a vacation from school or during the summers I felt I needed to be here helping," explains Joey Williams, 25, who has a Master's in Business Administration.
Also familiar with cattle, her husband, Taylor, grew up on a cattle ranch and a guided hunting operation near Broadus, Mont. Joey and Taylor have a 6-month-old son, Landon.
Expecting their first child is what brought Jessica Holmes and her husband, Casey, back to the ranch. After college, they were both launching their careers in Rapid City; however, the idea of raising their daughter, Tommi Jo, off the ranch didn't appeal to them. Tommi Jo, 4, now has a younger brother, Trey, 19-months.
"It was in our blood; we wanted to come back sometime and we started buying cows that dad ran for us," says Jessica, who also has her Master's in Business Administration. "I love the fact that we can take the kids with us and they do everything with us. Just like when we were kids ­ but it's easier because the tractors actually have a buddy seat."
Along with ranch work, the sisters fondly recall attending the same country school as their dad. Painter School was named for Joe's grandma, Mildred Painter, who was the school's first teacher.
"We sometimes got to ride our horses to school." Joey explains that there was a set of corrals at the school for that very purpose. "There were no rules at Country School. During recess you could do whatever you wanted; have snow mobile races, sled, play hockey on the river, ice skate ­ all kinds of stuff."
Along with the opportunity to raise their children how they were raised, rodeo and training barrel horses was the other love that drew them back home.
Rodeo roots run almost as deep as raising cattle. Joe's mom, Marilyn Scott, was the first Miss Rodeo America to be crowned in 1955. In 1982 Joe won the College National Finals Rodeo in team roping. PJ was named All Around Cowboy at the Great Plains Region Inter-Collegiate Rodeo; both Jessica and Joey were named All Around Cowgirl at the Great Plains Region Inter-Collegiate Rodeo and received the champion title in breakaway at the College National Finals Rodeo in 2006 and 2012. All three Painter siblings were recognized at the College National Finals Rodeo for their high GPAs.
Over the years, all three won the grand prize of a horse trailer and pickup during the Sheridan Elks Youth Rodeo, and numerous other high honors.
Looking back, the family's passion for rodeo paid off in college scholarships and lifelong friendships. Discussing why they stuck with it, Jessica and Joey say that along with the friends they met along the way, rodeo fulfilled their love for competition.
"We got to control our own destiny," explains Jessica, who coached the National American University and Black Hills State rodeo teams 2007-2009.
"In sports like basketball and volleyball, it depends on your team. In rodeo, it's all on you." Both girls met their husbands through rodeo and today, the couples continue to compete.
"Rodeo goes hand-in-hand with what we do here on the ranch every day. It's our lifestyle," explains Taylor.
When their parents are training horses or practicing for the next competition, Cindy enjoys taking care of her grandchildren.
"When I think of all the grandparents who don't get to have their grandkids close, it breaks my heart," Cindy says, explaining that she enjoyed raising her own kids on the ranch.
Reflecting on his years working on the ranch and rodeoing, PJ says the skills he developed have served him well in his career as a corporate attorney.
"I gained a lot of skills working with dad and mom on the ranch; the most valuable I'd have to say was learning that hard work and perseverance pays off. And, I think it was a good thing to learn the value of a dollar at a young age," explains PJ. "I also understand what goes into owning a business, which helps me understand my clients better." Typical summers the family squeezes rodeo in on the weekends between rotating cattle through pastures and haying.
However, due to less than 2.5 inches of moisture in 2016, this summer they won't be cutting any hay.
"In my lifetime this is the driest I've ever seen it," Joe says. "We typically hay from June 21 to Aug. 1 and then spend a month hauling it all in." The family will rely on last year's excess and buy hay to overwinter their yearlings and their cow/calf herd this year.
No strangers to dry years, in the early 1990s the family began dividing 2,000 to 4,000-acre pastures into three or four smaller pastures and installing miles of pipeline so that regardless of rain, their cattle would have access to fresh water.
"We rotate cattle through the pastures based on availability of grass to make sure we don't over graze," Casey explains.
The smaller pastures also help with winter herd maintenance. Because storms on the open range can become quite severe, over the years, Joe has built nearly 40 large V-shaped wind breaks.
Over the last two decades, the family has also planted several tree breaks.
"Everyone's goal in life should be to leave the land better than they found it for the next generation. That's always been our goal," Joe says.