Spiel Family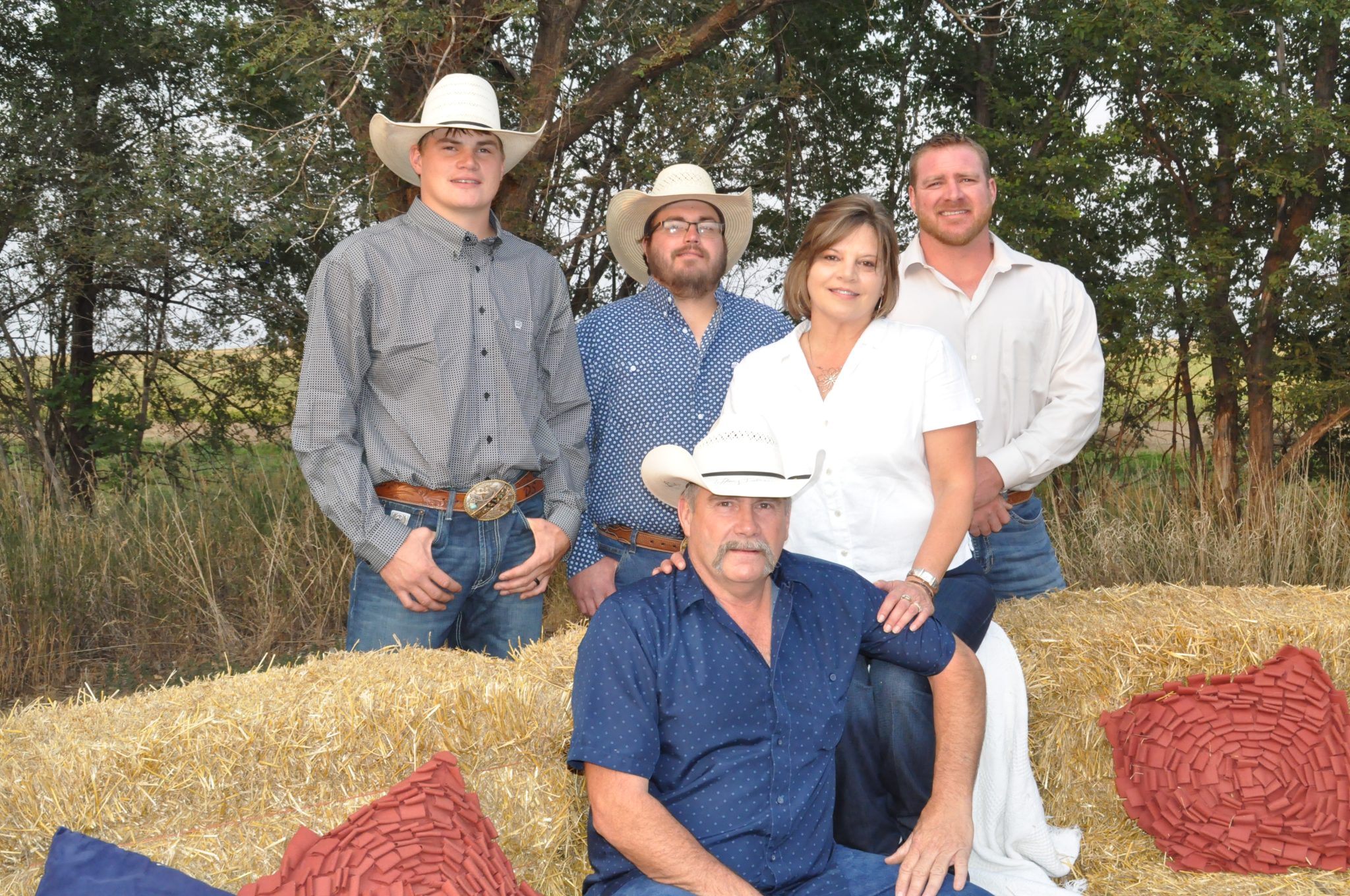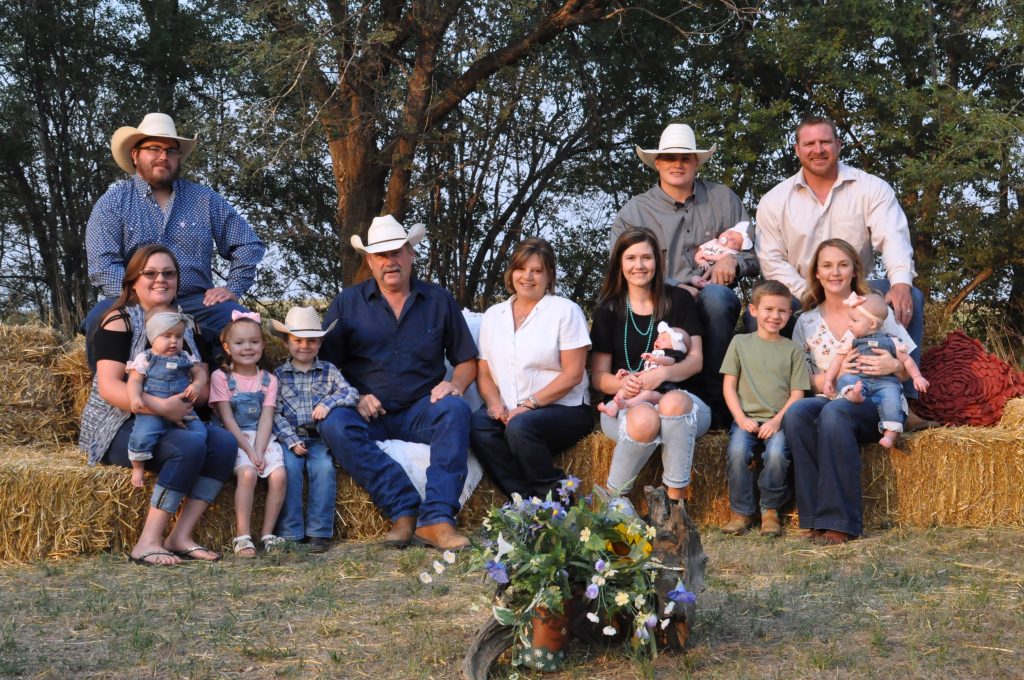 By Lura Roti for South Dakota Farmers Union
When their three boys were young, Bryan Spiel splurged on a 1969 Chrysler boat. It was $1,000 and came with everything needed to water-ski.
"That's all the boys wanted to do. Not go to town or the movies, they wanted to go to the water – all the neighbor's kids were the same way," Bryan said. "So, we'd get the work done and go to the river."
"The kids have fond memories of being pulled around behind the boat," Leah added.
It wasn't that Bryan and his wife, Leah, had an extra $1,000 to spend at the time. But they both agree it was $1,000 well spent. This story explains the Spiels' priorities: family first, then the ranch.
"We worked hard and played rough," Bryan explained.
"I think we balanced work and play," Leah said. "Our kids were able to go out for any sport they wanted (and they did), but they also got FSA (Farm Service Agency) youth loans when they were 10 so they could get their own livestock. We figured if they were working on the ranch helping us, if they also owned livestock, it would not just be for us, the work was also for them."
Leah and Bryan's now grown sons – Chase, Travis and Dayton – were also rodeo athletes. Even though they don't all live close, all three remain connected to the family ranch.
"We look at this place as not really our place, it is for the next generation," Leah said. "This is the way it has been for generations; we try the best we can to take care of it the best we can for the next generation."
Bryan and Leah are the fourth generation to care for the family ranch near Parade. Their sons and their families are the fifth: Chase and Lauren; Travis and Mercedes; and Dayton and Tyann.
Bryan's great-grandpa Walter VanBocklin on his grandma's side homesteaded in 1906, two miles west of where Bryan and Leah raised their boys. After the first winter, he traveled to Aberdeen and purchased 10 cows. "He brought them to Parade on the rail," Bryan recalls. "When he was in Aberdeen, he learned that he could rent as much Dewey County land as he wanted from the federal government for 9 cents an acre. He came back and told my great-grandma, 'I hate to tell you this, but we will probably only be here a year. I rented this land for 9 cents an acre and I don't know how I will pay for it.'"
Walter did eventually buy the land. And 116 years later, the Spiel family continues to raise cattle on the land.
A few years after they married, Bryan and Leah returned home to assist in managing the family ranch. Bryan's dad, "Bud," suffered from heart issues.
When they returned home to the ranch in 1990, they knew right away they would both need off-ranch jobs to make things work. Bryan owned and operated a trucking business and Leah worked in the local schools. Today, Bryan is full time on the ranch and Leah is the director of a children's group home with the Sacred Heart Center Child Services in Eagle Butte.
Reflecting on their decision to return to the ranch, they both say it was the right decision.
"We wanted to raise our sons on the ranch for the country way of life," Leah explained.
When Bryan and Leah reference "country life," it encompasses the wide-open spaces, providing their sons with a strong work ethic and a strong sense of responsibility.
Country life also includes good neighbors.
"We have the best neighbors," Leah said.
Bryan agrees. "You couldn't order neighbors this good. It's always been this way. When my parents built a new shed, all the neighbors helped and then they would come over for dances."
In addition to enjoying each other's company, the Spiels say all the ranch families help each other out. They share labor, equipment and their time with each other.
"Sharing equipment is really important for us small ranchers. You can't afford to go out and buy a combine, a sprayer, a truck and a trailer. So, we share the equipment we have, as do they," Leah said.
Leah adds that over the years the most important factor to their family and ranch success is a strong faith. Leah carves out time early each morning for coffee and an online Bible study.
"This me-time with scripture is an uplifting way to start each day," Leah said, sharing about challenging times when the family relied heavily on their faith. Once when their youngest son, Dayton, was only a toddler he had a blood disorder that did not allow his platelets to clot. "The surgery had a 50/50 chance of fixing the issue. And it worked!"
Today, Dayton is a professional bull fighter, and has competed in the World Finals of Bull Fighters Only. Another health challenge came when their son, Travis, was diagnosed with epilepsy and had a major car accident in 2013.
"Life is full of struggles whether living on a ranch or not," Leah said. "Today, all three of our boys are married, fathers and family-orientated, hard-working self-employed men. God has truly blessed us. He is our center. He is what keeps us grounded and gets us through the tough times and leaves us thankful for the good times."