Hotchkiss Farm Family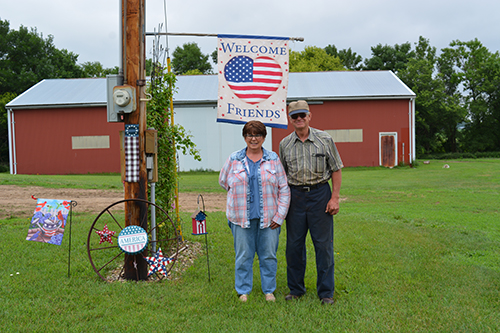 By Lura Roti for S.D. Farmers Union
Paul Hotchkiss' first love is farming.
"I don't know why it's what I love, but I do. It's what I've done all my life," explains the fourth-generation farmer, who has been running farm equipment since he was 6.
"His mom and dad told stories of how Paul would sit and play with the baby pigs when he was supposed to be doing chores," adds his forever love and wife, Myrna.
For the first 50 years, farming and the community of Colton were his life. Then, Paul met Myrna. Together the couple have built a fuller life together, sharing the joys and challenges farming brings.
The couple met through a group of friends who would go dancing together on the weekends.
"Paul was such a good dancer," Myrna says. "One weekend, he didn't show up and we didn't have many guys to dance with, so I asked for Paul's number and gave him a call."
The two began visiting nearly every evening and quickly became close friends.
"We danced for a year and talked for a year, but never went on a date. I would go on dates with other men and think, 'it's not like dancing with Paul,'" Myrna explains.
One day Paul joked with Myrna that if he asked her on a date, she wouldn't go with him.
"I said, 'yes I would. You should ask me,'" she says.
So, he did. Eighteen months after their first date, the couple married.
Together, they built a lovely home on a farmstead that years before a tornado had wreaked havoc on.
Before Myrna, Paul wasn't lonely. He invested his free time in his community, serving on a traveling praise team for the United Methodist Church of Colton; serving on the Colton Cemetery Board and as an active member of the Taopi Masonic Lodge of Colton. Paul, 62, is the senior warden.
"I enjoy it. There is a lot of satisfaction from helping your community," Paul says.
Together, Paul and Myrna are actively involved in South Dakota Farmers Union. Paul has served as District and County Vice President.
"In order to accomplish anything at the legislative level, you need to be a part of a group who gives a loud enough voice to the issues you care about," says Paul, who says Farmers Union is the group that gives a voice to him and Myrna and the farm they love. "Farmers Union is powerful enough to make change."
Myrna takes time away from her full-time job working for Wells Fargo Student Loan Department to help Wanda and Ed Artz host the annual Minnehaha County Farmers Union day camp for youth.
"Investing in our future is very important to us," says Myrna, who has three adult children, Beth (John) Helgerson; Angie and Lance Blackford.
More than 40 years ago, when Paul thought of his future, he only saw himself farming. This was what his parents, Herman and Millie, had hoped for.
To help Paul and his two brothers, get started, Herman purchased land and then sold it to his sons contract for deed. The land Paul farms today is a half mile from the farm where he grew up.
Today, all three sons, Paul, Dennis and David, farm separately, but help each other out with labor and sometimes share equipment.
Getting his start during the farm crisis of the 1980s, Paul has remained successful by not overextending himself. His farm is "small enough to keep busy, but large enough to pay the bills." And, he farms the acres of corn and soybeans with equipment that is bought and paid for.
"I run equipment that is 40 years old," says Paul.
Myrna adds, "But, it still runs because Paul takes care of his equipment. A friend recently said, 'you know Paul takes care of his equipment because the inside looks as nice as the outside.'"
At this point, the couple says if they were to upgrade, not only would the expense of new equipment be a challenge, but they'd also have to build a new machine shed to house the equipment.
Like his equipment, when it comes to caring for his farm acres, Paul is meticulous. "I don't cut corners," Paul says.
For years he has been collecting soil samples himself to ensure his acres receive the inputs they need. This year, he went a step further and invested in grid sampling and is trying out variable rate fertilizer.
Even though Myrna works a full day in Sioux Falls, once the 45-minute drive is over, she enjoys spending her evenings on the farm with Paul.
"Farming is in our blood. It's what we love," says Myrna, who grew up on a farm in northwest Iowa.