Petik Family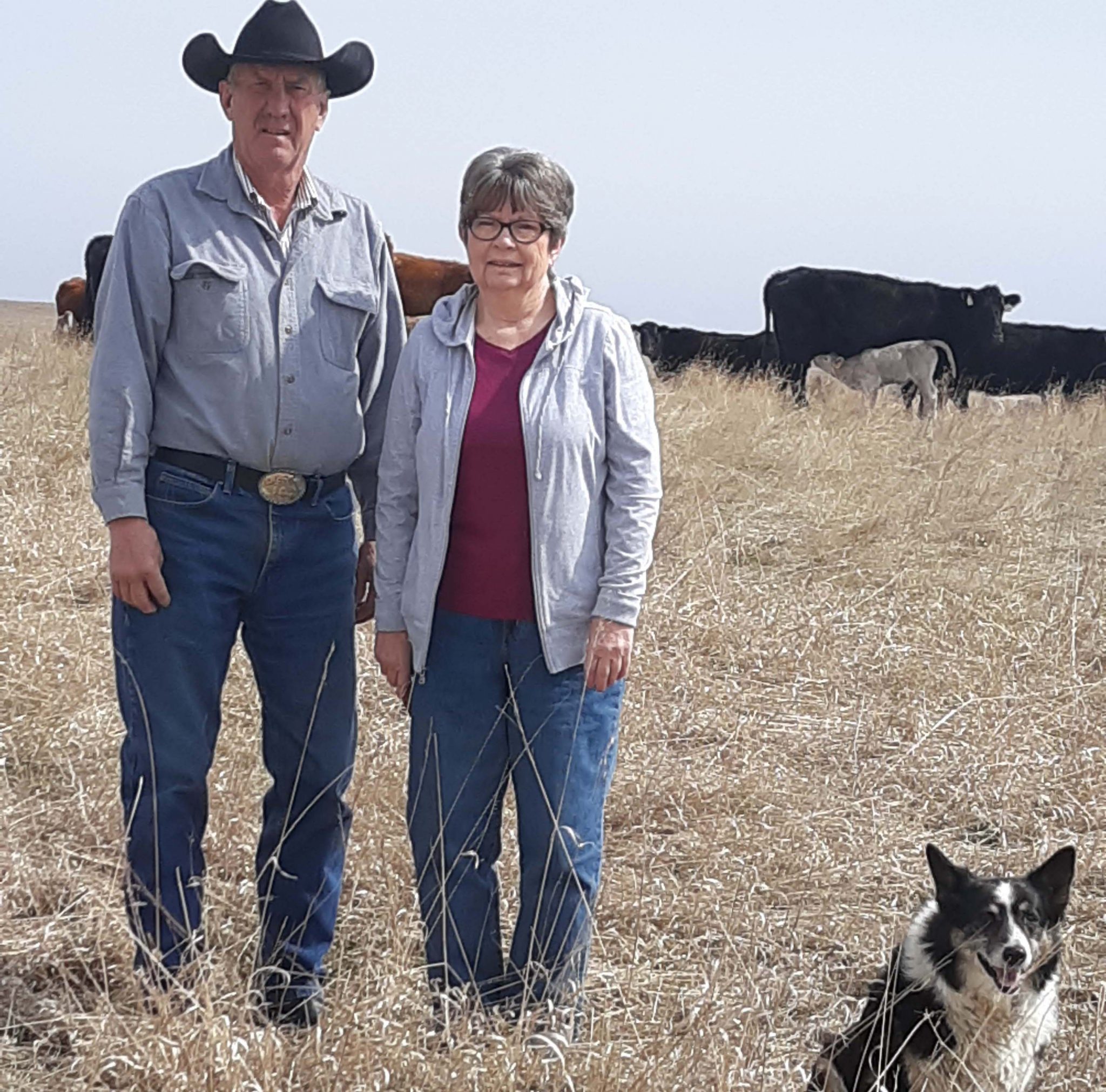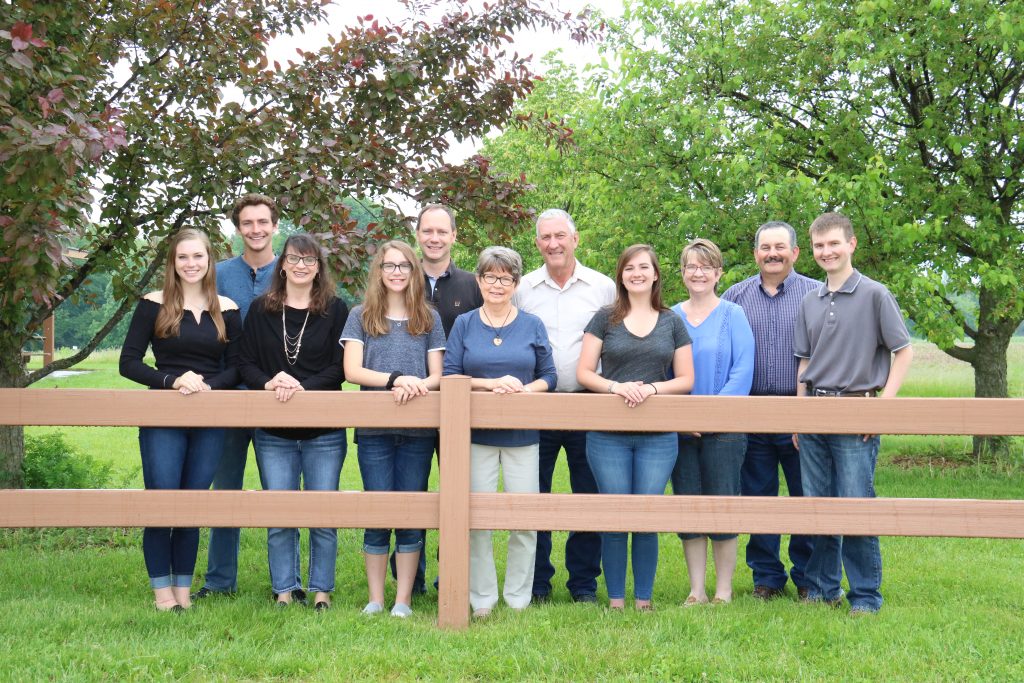 On Black Horse Ranch, there's a creek bottom that offers excellent winter protection for cattle during a blizzard – most of the time. It can also be the most dangerous spot for them to shelter. "It just depends on which way the wind is blowing," says Jerry Petik, 71, a third-generation Corson County rancher.
In a way, ranching is similar to that creek bottom. "Everything is always evolving – the markets, the weather. So, we need to constantly evaluate what we are doing," explains Jerry, who raises cattle and forage crops together with his wife, Carolyn, 40 miles southeast from Lemmon, S.D.
To offer some protection from market swings, Jerry and Carolyn diversified their marketing plan. They market heavy steers at weaning each fall. The couple retains ownership of heavy heifers, sending them to a commercial feedlot to finish. And, they overwinter lighter steers and heifers, keeping them on pasture through the summer, sending them to a feedlot in August or September. "Basically, what we are doing is spreading out the risk over the marketing year and hopefully it allows us to maximize income from each group of cattle," Jerry explains.
In the current market, there are not any profits to be had. So, in the midst of 2020 calving season and the COVID-19 pandemic, Jerry and Carolyn are retaining ownership of all cattle with the hopes that markets improve soon. "Right now, we have time on our side, but we will have to sell some cattle come June or July," Jerry says.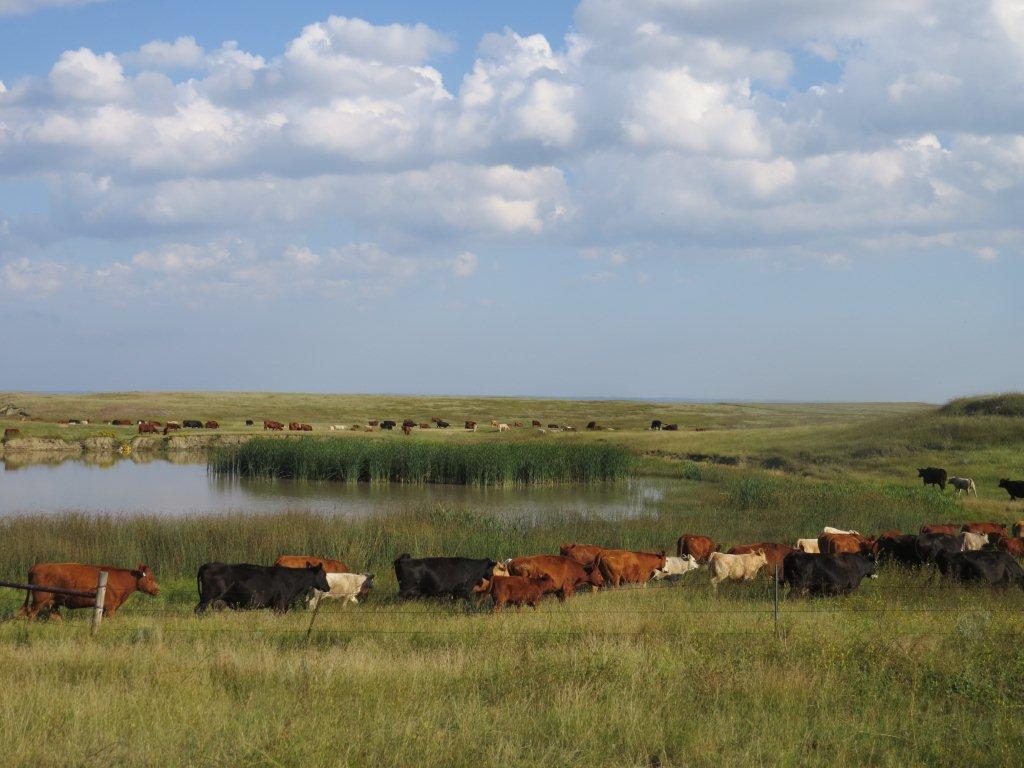 Thinking outside the box, being prepared and having plans in place is a Petik trait. Even as a kid, Jerry recalls his dad, Jim, doing things a bit different from some ranchers. Jim made innovative advancements to herd genetics by crossbreeding Charolais. Long before rotational grazing became a standard practice for many cattle producers, his dad implemented rotational grazing to help improve forage use.
When the herd wouldn't eat the crested wheat grass, Jim tried to entice them by relocating their water sources to areas of the pasture dense with the grass which was introduced following the Dust Bowl to prevent erosion.
To make grazing even more efficient, he began installing cross fences, reducing pasture size and forage options. "Now, Dad had a fairly big crew of kids who could fence," explains Jerry, who grew up with four siblings. With fewer forage options, the cattle began utilizing all the grasses. Over time, Jerry says they began to see native grass species return.
Over the years, Jerry has refined his father's grazing rotations. Today, he rotates cattle through five pastures, varying the season. In addition to water and fencing, he also uses salt and mineral to lure cattle to graze less desirable forages. And the Petik efforts have paid off. Some 60 years after his dad started working to improve the rangeland, Jerry says when he rides across the pastures, he now sees a diverse mix of native grasses.
In addition to providing his cattle with healthier forage options, the species diversity has also improved soil health. "I would say we have a moral responsibility to take care of the environment and leave it better than we found it," he says.
A family legacy
Jerry and Carolyn have both been caring for cattle since they were old enough to ride. The couple met in high school and attended South Dakota State University. Carolyn received a degree in Home Economics and Jerry took home degrees in Agriculture Economics and Agriculture Business.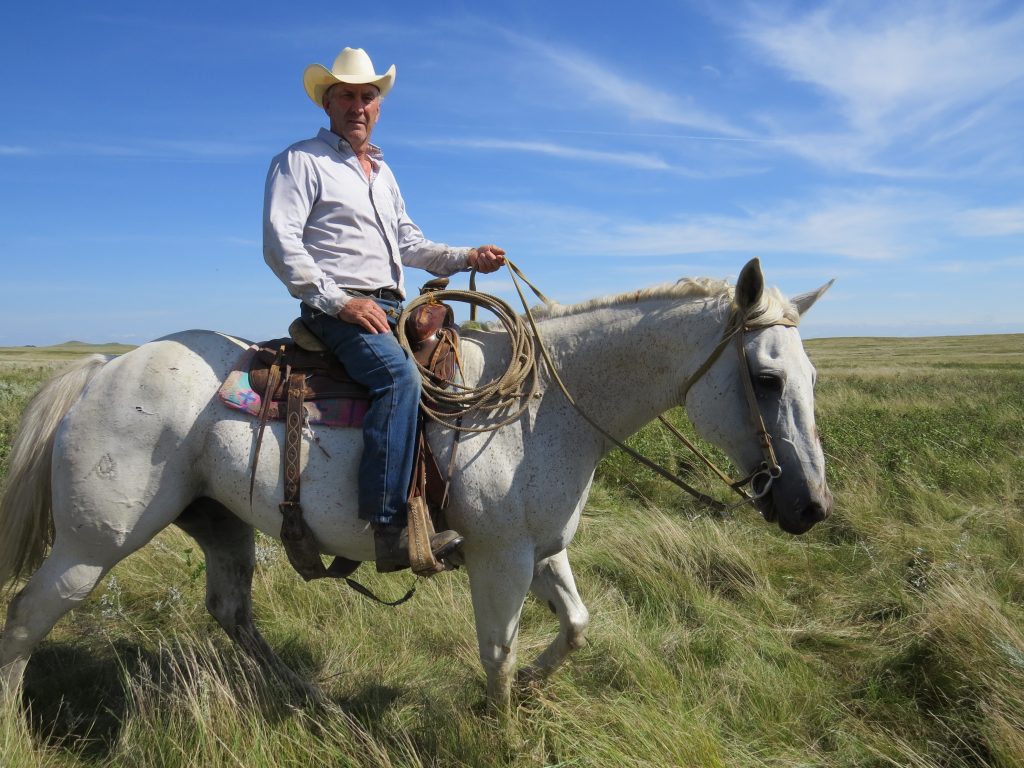 Following graduation in 1971, Jerry says the couple returned to ranch because his dad had built up a strong operation, and there was room for him and two of his brothers to return home.
About that same time, his dad incorporated the ranch, giving all five children shares in it. Following his parents' death, those who remained involved, like Jerry, inherited shares in land and cattle while the siblings who built careers off the ranch, inherited cash. "We had all been working on the ranch since we were 10, so we all had a lot of sweat equity in the ranch and the folks recognized that."
His grandfather was a Czechoslovakian immigrant. He worked in a wagon factory in Chicago before coming to homestead in South Dakota in 1912. He bought two horses in Chicago, one had pulled a fire truck and the other was used on a milk truck. "You can imagine how that worked out," says Jerry, explaining that these were the first horses his grandpa had ever worked with because he farmed by hand in Czechoslovakia. Jerry says it is quite amazing that his dad was able to build the ranch up to the point that it would be enough to support multiple families.
Jerry and Carolyn's daughter, Jeri Lynn, and her husband, DeJon Bakken, farm and ranch on Carolyn's home place north of Lemmon. DeJon helps out at Black Horse Ranch on a regular basis and they run cattle there in the summer. Jeri Lynn teaches vocational agriculture in Mott, N.D. They and their children, Leif and Mirandi, have been an integral, hands-on part of the ranch over the years. Leif is an ag broadcaster for the Northern Ag Network based in Billings, Mont., and Mirandi is a senior anthropology major at Montana State University in Bozeman, Mont.
Kurt and his wife Leah live in Fond du Lac, Wis. Kurt is a senior relationship manager for Rabo AgriFinance. Leah is a stay-at-home mom and volunteers extensively in their church, the school and community. They have three children. Grant is a Junior at the University of Wisconsin, Madison, majoring in Civil engineering. Kiya is a first year nursing student at SDSU and daughter Irelyn is a student at Woodworth Middle School. Even though separated by distance, they are part of the operation and the ranch is an important part of their lives.
Because their children don't live on Black Horse Ranch, Carolyn and Jerry say they have been looking for a young couple to manage the ranch while they are still able to mentor them through the transition. "We want it to stay in good condition. We want to know who will care for it. We hope to influence the next generation of ranchers who decide to care for it when we are gone," Jerry explains. After years of actively searching, Jerry and Carolyn think they found the right couple. And they didn't have to go too far to find them. "Our neighbor's daughter is getting married so I asked him, "are you gaining a hired hand or losing one?" He said, "I suspect I'm losing one." So I said, "How about we hire Matt (her fiance`)` and then we'll both have help?'"
Still in the early stages, the Petiks are optimistic. "I'm hopeful," says Carolyn. "Matt comes from a ranching background and Kelly grew up out here. They know the roads and the distance from town and the time it takes to do simple things like get to church, school and the grocery store. They understand ranch life!" The idea of working with a young couple doesn't scare them. For years, the couple has hired young farmers from across the globe to work on their ranch through a University of Minnesota exchange program.
"Working with young people is exciting," Jerry says. "It's also been interesting learning about other countries."
Volunteering for causes that matter
Giving back to causes beyond their ranch, matters to Jerry and Carolyn. The summer Jerry returned home from college, he and a friend started the Grand River Volunteer Fire Department. When he and Carolyn moved onto a different ranchstead 20 miles from his dad's place in 1988, he joined the Glad Valley Volunteer Fire Department. He also served on the Lemmon Area Medical Association board of directors. Together, the couple served as 4-H leaders of the Busy Beaver 4-H Club. Jerry and Carolyn both grew up belonging to 4-H as did their children and grandchildren. They continued that involvement as leaders over the years. They have also has been actively involved in the Presbyterian church on the local, state and national levels. Until recently, Carolyn played piano for their rural church.
For nearly two decades Carolyn taught music in rural schools for a few days a week and also gave piano lessons.
Together, the couple have also been actively involved in S.D. Farmers Union (SDFU). Jerry served on the state Board of Directors for 23 years and represented SDFU on the Cattlemen's Beef Promotion and Research Board as well as the S.D. Beef Industry Council. Carolyn was the Corson County Education Director.
Currently, Jerry serves on the board of the Grand River Co- op Grazing Association, the organization responsible for helping to manage National Grasslands permits. "These lands were originally purchased from homesteaders, following the Great Dust Bowl, so that people could have money to leave. The land was then planted to grass to stop erosion," Jerry explains. "Those who stayed were granted grazing permits to use this land." He adds, that like all the organizations they are involved with, the time he serves with the Grazing Association contributes to their rural community. "We have been given so much. So, we want to support organizations that matter to agriculture and our community so that hopefully, the next generation can enjoy similar benefits of rural life that we have."