Townsend Family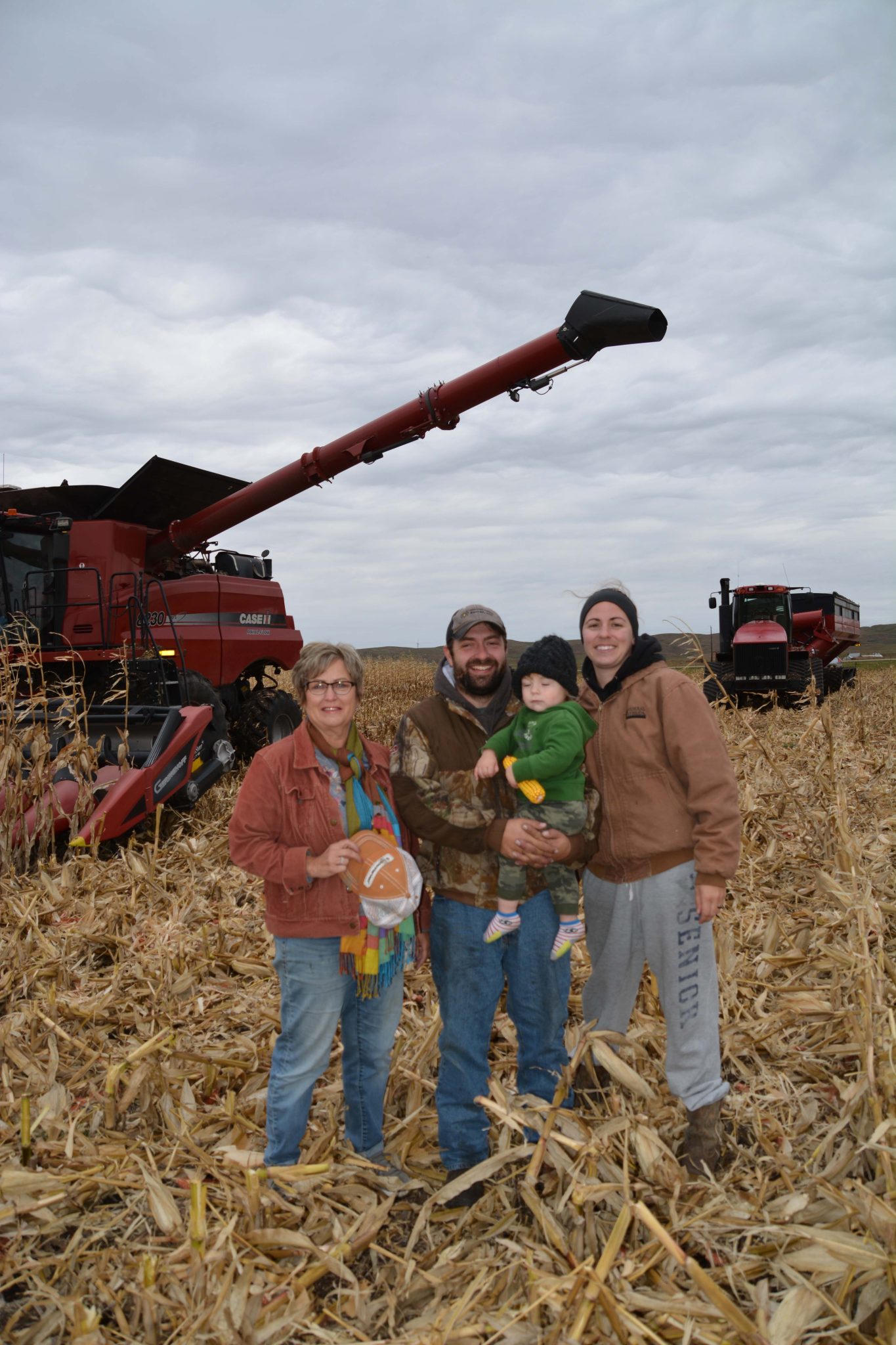 By Lura Roti for SDFU
It's Oct. 26, 2021. Zach Townsend his wife, Stephanie, and their young son, Henry, are in a corn field southwest of Andover combining. Zach's mom, Jolene, just delivered lunch.
"This is a blast, especially considering what we went through this year. With no rain, then too much rain, I'd pretty much written this crop off," says Zach, eyes on the yield monitor. "There should be nothing out here. And sure, in some spots yields are zeros, but in other spots the yields are average. And in spots, it floors me! I am completely shocked."
It's not just the yields that have his spirits up. It's the fact that the people he cares the most about are harvesting with him. "This issomething everyone dreams of. You always want to farm with your family and friends," says the fourth-generation Day County crop and cattle producer.
Because Stephanie works full time on the farm with Zach, their son, 18-month-old Henry, spends his days in the combine too. In fact, he just woke up from a nap at his dad's feet, snuggled up with a crocheted blanket his mom made him. "He's with us seven days a week. The other night Henry baled until 10 p.m. with Stephanie. She also takes him out to check cows. He has combined wheat, sunflowers, soybeans and now corn. He's not even 2 and he's done it all."
Grandma Jolene confirms this. "Even though I'm here, he doesn't come often enough because he loves his mom and dad and he loves farming," she says.
And Jolene knows this would make, her husband, Alan, happy. The only thing Grandpa Alan loved more than farming was his family. Alan passed away unexpectedly in the fall of 2020. He had a heart attack while fencing.
"Farming was his joy," Jolene says. "He loved the land and his cattle."After high school Alan continued to farm with his dad, Russell. At 18, he bought his first tractor and piece of land.
Zach followed in his dad's footsteps. "We wanted him to go to vo-tech in Watertown," Jolene says. "He was enrolled in agriculture classes, but when it got closer to the time, he said, 'I can learn more from you and grandpa than I can in class. I am coming home every night and I'm not going to study, so you will be wasting your money.'"
From that conversation forward, Zach has been farming full time.
"He gave me a lot of free rein," Zach says of Alan. "But, he would reel me in when I got a little out there and give me a reality check."
"I always knew I wanted to farm," he continues. "I just had the outdoors in me. I hunted and fished. I remember when I was 6 or 7 and we were combining, I took my fishing pole and would go down to the creek by Amsden Lake while dad filled trucks. And when the trucks got full, I would skedaddle up to the truck and ride along in the semi to the elevator."
Stephanie has similar stories from growing up on her family's farm near Leola. A second-generation cattle producer, by the time Stephanie left the farm to become a vet assistant, she already had a herd of her own. She manages the cattle side of the Townsend farming operation.
"I love cattle," Stephanie says. And she explains that as long as they are docile and good mothers, she is not picky about their color. She refers to her cattle as a "rainbow herd." "I have Shorthorns, buckskins, reds and speckled – there isn't a bad one in the group," she says. "If I can't go out and tag and check them by myself – I don't keep anything bad around. If I don't trust it, I don't keep it. They are all pets – every single one of them."
And it seems Henry shares his mom's love. "He loves going out in the Ranger to feed them ears of corn. Before he was born, I told Zach that I was going to teach him how to feed."
Stephanie manages her rainbow herd and the cattle Alan and Zach had before they married in two separate groups. She rotates the cattle through pastures depending on grass height during the growing season.
In some pastures, the cattle share space with wind turbines.
"The wind turbine company came out and tested the wind speed in our pastures. It just happens the windiest spot in the area is on top of that hill," Jolene says. "When Alan learned this, he said, 'I could have told you that.'"
She adds that the cattle don't mind sharing space with the turbines. "There were rumors the wind turbines bothered the cattle. But those rumors aren't true. We often see the cattle napping and grazing right under them."
When the turbines went in, so did maintenance roads. Zach says the roads make checking water and cattle a much easier task.
Turbines are among the many changes this farm has witnessed.
In the early 2000s, Alan began implementing no-till farming practices. Zach says this change was a bit tough for Grandpa Russell to accept. "Grandpa didn't adjust to no-tilling well at all.You know farmers, they are pretty stubborn. I'm stubborn and set in my ways and I'm not that old," Zach says.
Zach credits no-till with helping the soil hold enough moisture to support this season's crop during the drought. He also credits no-till with allowing him to get into fields to harvest this fall.
"It didn't rain all season and then we received 21 inches since August," he says.
Rain is in the forecast for tomorrow. He and Stephanie are nearly finished combining this field. They are going to try and get a few more wrapped up before the imminent rain. "We're fortunate and blessed," Zach says. "This is how we get to spend our days – farming together."