Celebrate Farm & Ranch Moms
Profiles by Lura Roti for South Dakota Farmers Union
As we reflect on the women who raised us this Mother's Day, South Dakota Farmers Union would like to celebrate the many women who support the state's No. 1 industry –farm and ranch moms!
Read on to learn about Aberdeen farm mom, Rachel Kippley and Parade ranch mom, Carleyn Petersen.
Rachel Kippley, Farm Mom, Aberdeen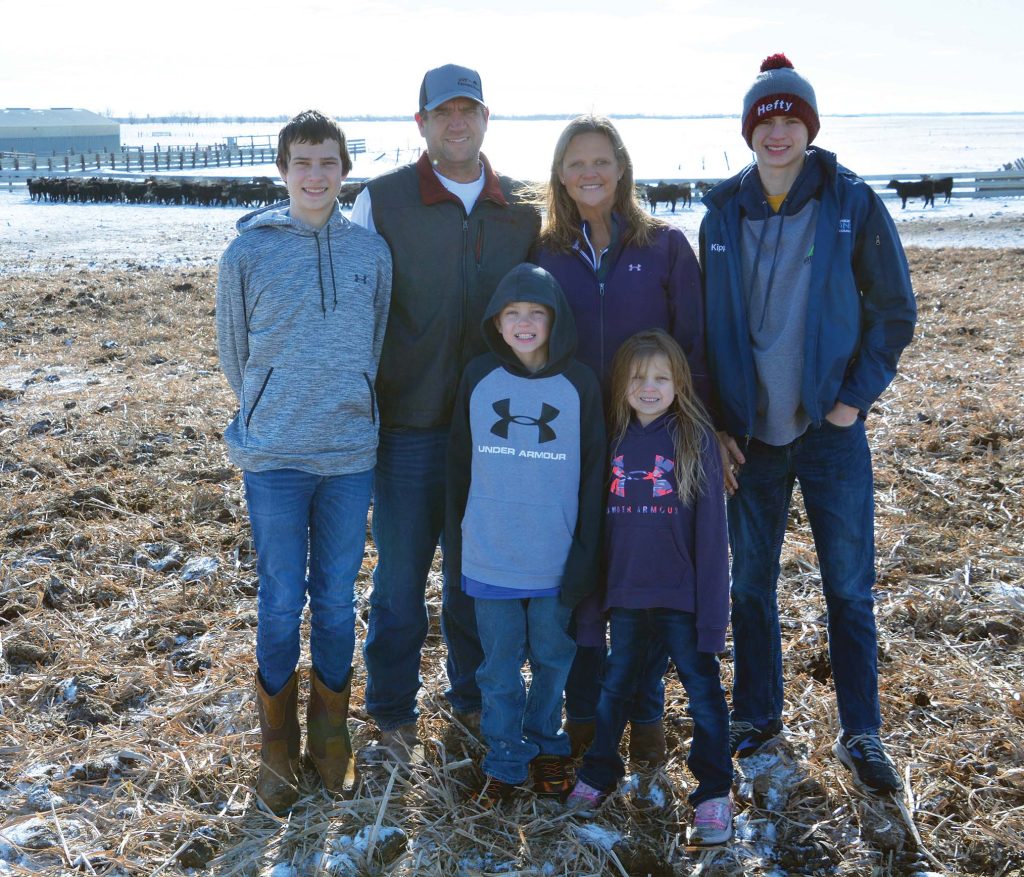 Growing up on a farm near Guelph, N.D., Rachel Kippley says she comes from a long line of farm moms.
"The tradition of farm moms goes back generations – my grandma was a farm mom, her mom was a farm mom, my mom was a farm mom. It is one of those things, if you are raised in it, you appreciate and yearn for it," explained Kippley, who together with her husband, Jeff, raises their four children Noah, Titus, Aaron and Moriah, on the family farm near Aberdeen.
And although her career after college eventually led her to Washington, D.C., Kippley always thought that when she was ready to marry and start a family, she would make her way back to the farm.
"Lots of little girls want to marry someone just like their dads. My dad was a farmer and I realized when I was working in D.C., the person I wanted to marry was going to be someone who works the land," said Kippley who worked as a policy analyst for former Congressman Janklow. "The dream I had for myself involved wide open spaces where I could put down roots."
Kippley met Jeff as a college student during a Board of Regents meeting in 1999. At the time, she served as student association president of Northern State University and Jeff was serving as a student association senator at Black Hills State. They reconnected five years later at a music festival.
Jeff is a fifth-generation farmer and raises crops and cattle.
"Four months later we got engaged and that summer we were married. When you know, you know," Kippley explained.
After their oldest son, Noah was born, Kippley said she needed a career change. "I realized my heart was not in the 8-5 work shift. It was brutal for me dropping him off at daycare."
So, she traded in her office job for one on the farm. "I have so many pictures with my kids in the buddy seat rock rolling, grain carting or trucking. Farm work is not always fun, but it is a lot more fun when I'm working with my kids."
Today, Kippley says she and Jeff could not get the farm work done without their kids' help. "When they are little it may take more time and patience to have the kids working with you, but it sure pays off when they are older," Kippley said. "There is no way we could get cattle chores done or harvest in without them. We make a point to ensure they know this and thank them often for their help."
In addition to a strong work ethic, Kippley says she and Jeff have also worked to instill a strong faith in God.
"Growing up my mom made sure priorities were faith, family, then farming. We are the same way," Kippley said.
Each Sunday the Kippley family makes the 45-minute trek to attend services in the same church where she grew up.
"If there are tough times, our kids need to know where to lean and where to put their trust. I think they get it."
Recently, Kippley received a phone call from a parent of one of her son's classmates. "The parent called to tell me that her kid was getting picked on at school, and our son stood up for her kid," Kippley said. "As a mom, I was pretty proud to learn that he was putting other people before himself."
Today, Noah is a Sophomore in high school and her youngest, Moriah, is 8. Kippley returned to full time work off the farm in 2021 when she accepted the position to serve as Brown County Fair and Park Manager. Unique to other South Dakota fairs, the Brown County Fair does not charge admission. It is among the largest fairs in the state, welcoming about 280,000 visitors.
Reflecting on her decision to return to work off the farm, Kippley said she knew her kids were old enough because her mom, Linda Hansen made the decision to work off the farm when she was about Moriah's age.
"They know that no matter how busy we are, they are always our priority," Kippley said.
Carleyn Petersen, Ranch Mom, Parade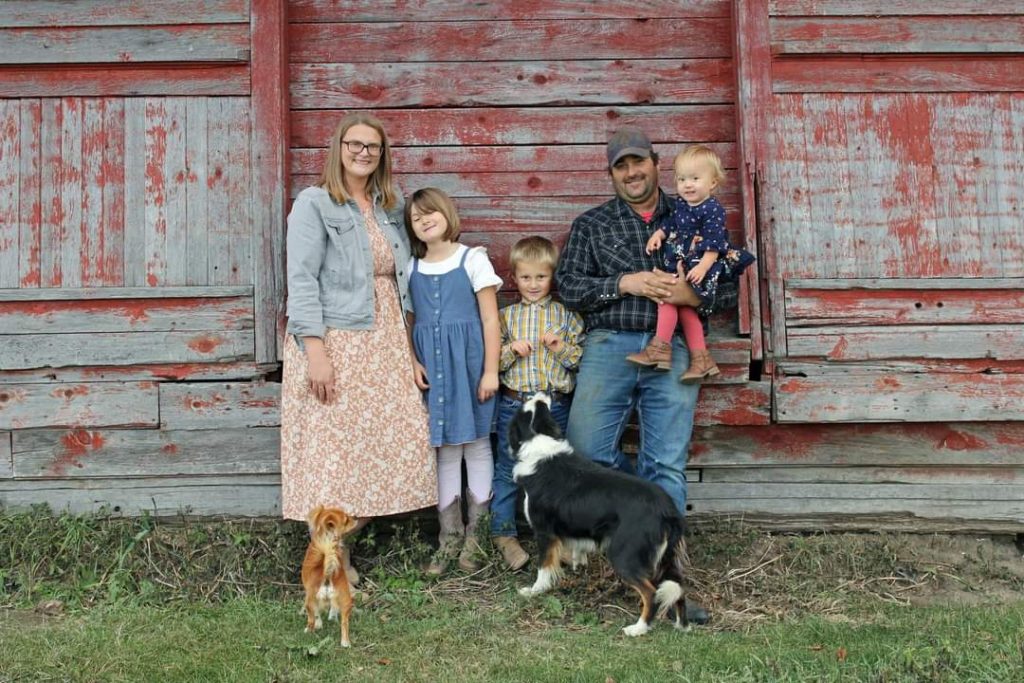 Moving from Aberdeen to her husband, Cole's family ranch 17 miles east of Eagle Butte was a bit of a shock at first for Carleyn Petersen.
"When I helped my husband with branding for the first time, at the end of the day I was like, "Whew! I am glad that is done." He said, "we have four days left." But I would not change living out here for the world. I love what I do as a stay-at-home rancher's wife,'" Petersen said.
The location of the ranch is among the many things Petersen appreciates.
"I love looking out into the fields and not seeing any neighbors. And I don't have to tell my kids to be quiet because of the neighbors," Petersen said. "I get to take my kids on adventures city people don't get to do."
Nearly every day Petersen takes her children: Patricia, 8, Zachary, 6 and Lizzie, 3 to visit one of the many ranch dams.
"In the winter we go look at how much ice is on the dam and sled down the hills. Patricia has a name for every dam," said Petersen, listing off some of the names: Bever dam, Heart dam, Mr. Turtle's dam and Shapes dam.
Being a mom is what Petersen said she always wanted to do. "I love everything about being a mom," Petersen said. "From going to see them at their school concerts, to changing those poopy diapers. And the fact that I get to live out here and let my kids run and explore."
Petersen said going on adventures with her children comes naturally because this is how her mom was when she was growing up.
"My mom was always right next to me when I was learning new things. So, I like to be with my kids as they explore," she said. "It's amazing to see their eyes light up at the simplest things – it's a rock, but it's a dinosaur egg to my son or a gem to my daughter."
During haying season, Petersen takes the kids on "camping trips," parking their camper next to a hay field.
"We sleep there and then my husband, mother-in-law and I each take a different one with us when we start haying the next day. The kids love it."
This is not to say that being a fulltime mom to three children eight-years-old and younger is always fun and games.
"Once 6:15 a.m. hits and I wake up the kids for school, it gets pretty chaotic around here."
Petersen credits her early morning coffee and devotion with helping her take everything in stride.
"I get up around 5:30 and take time for my morning coffee and devotions. It is a great time to reflect on the previous day and the good Word helps me throughout the day."
She added that sharing a yard with grandparents helps too.
"My mother-in-law is really great and helps watch the kids if I need to go out and help Cole pull a calf or something."