Family Farmers & Ranchers Unite to Develop Policy That Supports Their Future
South Dakota family farmers and ranchers are in San Francisco working to develop policy that supports the future of their farms, ranches and rural communities during the 121 National Farmers Union Convention held March 5-7.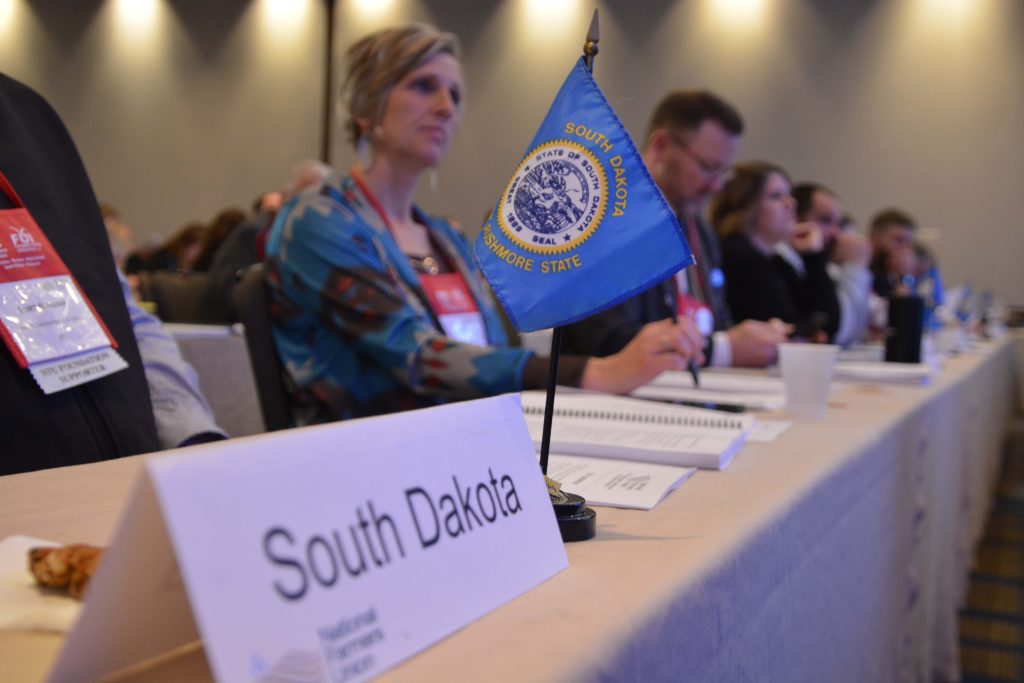 "The work you are doing here is big," said Doug Sombke, President of South Dakota Farmers Union (SDFU), during a breakfast meeting with Farmers Union members ahead of March 6 delegate session. "It is because of the work you do through grassroots policy that we are seeing positive updates to the 2023 Farm Bill and oversight of meat packers."
Among the positive updates Sombke referenced is the USDA proposed ruling announced by Secretary of Agriculture Tom Vilsack during convention that would limit the use of Product of the USA or Made in the USA labeling to livestock born, raised and harvested in the U.S.
"South Dakota Farmers Union members have worked for more than 30 years for truth in labeling and MCOOL (mandatory country of origin labeling)," said Karla Hofhenke, SDFU Executive Director. "We have work left to do, but this is a big step in the right direction."
Aberdeen cattle producer, Rachel Kippley agrees. "For those on the sidelines, this is just an announcement. But for the members of Farmers Union who have been working so hard on getting this policy change it is exciting to see the fruits of our labor," said Kippley, who farms with her husband, Jeff and works as the Brown County Fair manager. "Big steps are years in the making. So, seeing years of Fly-Ins, e-mails, phone calls make a difference is exciting."
MCOOL is the reason Kippley and her husband, Jeff, became active in South Dakota Farmers Union a decade ago. During the 2022 convention, Jeff was elected to serve as Vice President of National Farmers Union (NFU). He said the long history of grassroots policy work by family farmers and ranchers is the reason policymakers listen to Farmers Union.
"NFU has a great working relationship with Secretary Vilsack that goes back more than a decade," Jeff Kippley said. "It is exciting that this proposed ruling takes away the ability for packers to abuse the label."
With this policy win fresh on their minds, 17 South Dakota Farmers Union delegates begin day-two of policy discussion March 7. In addition to Sombke, Jeff and Rachel Kippley, the other delegates are: Scott Kolousek, Wessington Springs; Amber Kolousek, Wessington Springs; Hank Wonnenberg, Dallas; Melissa Wonnenberg, Dallas; Lance Perrion, Ipswich; Sarah Perrion, Ipswich; David Reis, Reliance; Brenda Reis, Reliance; Rob Lee, De Smet; Michelle Johnson, Groton; Chad Johnson, Groton; John Kippley, Aberdeen; Kirk Schaunaman, Aberdeen and Lorrie Hanson, Britton.
"When I look at the 2023 delegates, I think diversity," said Wayne Soren, Lake Preston farmer and SDFU Vice President. Soren has been a member of Farmers Union since the early 1980s, so he has worked with many delegate teams over the years. "We have a strong mix of men and women, young producers and more experienced producers. Our delegates are farmers and ranchers. They are from East River and West River. South Dakota agriculture is well represented here."
Sarah Perrion and her husband, Lance farm near Ipswich. The young couple have three daughters and together they also own and operate several farm-related businesses. This is the second convention they have served as delegates on behalf of South Dakota family farmers and ranchers.
"It is interesting to hear from everyone across the country," Sarah said.
Lance added. "In listening to the speakers, it seems that they are definitely engaged and open to what we are saying is going on." Lance is referencing the address made by Michael Kades, Deputy Assistant Attorney General Department of Justice Anti-Trust Division.
"If you have an issue or problem and send someone an e-mail about it, it seems that it falls on deaf ears. But here, after listening to Michael Kades speak, it seems like the Department of Justice is listening to what we are saying."
Having a voice and being heard is the main reason family farmers and ranchers join South Dakota Farmers Union. As the state's largest agriculture organization, the 2023 NFU Convention delegates carry a large responsibility. They are working to ensure the policy put in place during the 2022 South Dakota State Farmers Union Convention becomes part of NFU policy.
SDFU member and delegate Rob Lee does not take this responsibility lightly. "It is easy being from South Dakota to think, agriculture is corn, beans, cattle and pigs. But when you get in a room full of farmers from all over the country, it becomes evident that you are just a cog in the giant wheel of agriculture in the U.S.," explained Lee, who together with his wife, Darcie, brought their youngest child, nearly three-month-old Esme to the 2023 NFU Convention. "You cannot take for granted what is important to South Dakota producers is important to everyone. What is important to a cucumber grower in California is different than what is important to a farmer in Kingsbury County South Dakota. It is important for us to make sure the priorities of South Dakota producers are being heard at a national level."
To read NFU policy, visit www.nfu.org. To learn more about the work South Dakota Farmers Union does to support family farmers and ranchers, visit www.sdfu.org.